November 9, 2023 at 12:05 a.m.
---
Thomas M. Froneberger, LTC (Ret), USA, USMA 74'
| Comments:
0
|
Leave a comment
---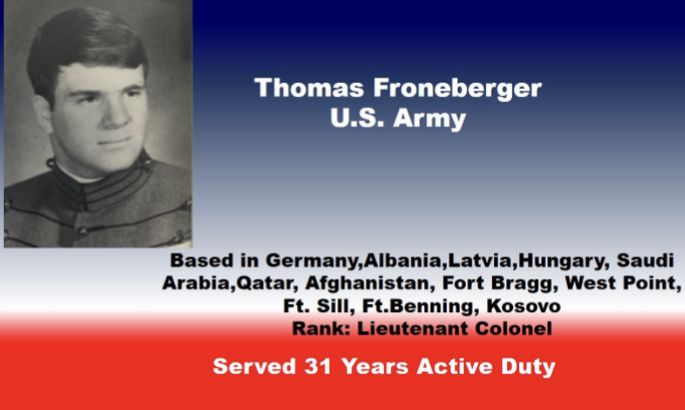 This speech was given by Thomas M. Froneberger, LTC (Ret), USA, USMA 74', at the Lincoln County Veterans' Tribute on 28 October 2023 at the Ocean Drive Resort in North Myrtle Beach as part of the 1960-70 Class Reunion Celebration for Lincolnton High School.  The American Legion 186 of Little River, S.C. provided the Color Guard.  
We also honor United States Marine Captain Jeb Seagle who was killed on Grenada on 25 October 1983.  He was awarded the Navy Cross for Heroism and is buried at Trinity Lutheran Church in Vale, North Carolina.  Jeb Seagle Day in Lincoln County is 25 October.  
____________________________________
Aristotle said "Courage is the mother of all virtues because without it, you cannot consistently perform the others."  Thank you for your courage, then thank you for your service.
In the 300 movie: Leonidas, King of Sparta, was a great leader albeit, in the fatalistic Greek fashion.  He cared for his soldiers, loved his country, maximized the Warrior spirit, and outthought the enemy.  He drew the Persians into the jaws of the Pass at Thermopylae; his men fought to the death.  He inspired Aristotle's thoughts. 
This speech focuses on: Lincoln County's early veterans and their legacy.  Think of two things:  Lincoln County geographically and what it means to be a veteran.  Now, I hate to tell you this but if you are without roots to Lincoln County, you're at the Wrong .... Reunion.   
Who is a veteran? Greater Community's Sanction to serve and bear arms
Fought to protect the home and family
Fought for the future and a cause to correct the present
Duty could have cost the life
Circa 1740, the Catawba Valley was the edge of civilization with cheap land.  Although, British conditions were that you could lose all, if you displeased the Crown.  Into this vacuum poured waves of immigrants from Belfast to Bohemia, escaping religious persecution and suppressive governments.
Some settlers joined the British during the French and Indian War, but action was limited in the Carolinas to the Cherokee.  Subsequently, at war's end, the "edge of civilization" jumped to the base of the Blue Ridge in 1763.
Fifteen years later during the Revolutionary War, the North Carolina General Assembly authorized the creation of the "Lincoln County Regiment."
Lincolnton became an unincorporated town in 1779.  Concurrently, the Lincoln County Regiment was activated, subordinate to the Salisbury Brigade, then to Gen. Morgan.
The Battle of Ramsour's Mill, mid-June 1780, was between Loyalists and Patriots.  Anyone not heard of this?  If so, you're at the Wrong… 
From the Battleground School Library, you saw the graves.  Where did these beastly Tories originate?  Cherryville?  The Babajega? Assembled on the hill were 1300+ loyalists, that's a lot of people.  I'd have to announce free pulled-pork and beer at Westport Marina to get such a crowd.  They were our neighbors; the two Loyalist leaders Moore and Welch lived seven miles East of Lincolnton.  That put them between Pumpkin Center, Furnace Road, or Iron Station.  Francis Locke of Salisbury, led the Patriots and assembled 400 people at Mountain Creek, with seven Lincoln Regiment companies.  In the haze, the Patriots attacked the Loyalists from the East, the site of the new Lincolnton High School.  The battle raged for two hours, many Loyalists lacked weapons.  Locke gave the order to retreat but a Presbyterian Minister Dickey said "No, I'll get shot in the back."  Courage, then Charge! 
The aftermath was less than 300 dead and wounded.  Both sides were equally affected; both sides-our veterans.  Lincolnton was in shock; two decades later in 1800, Lincolnton's population was only 90.  We honor our esteemed Color Guard - Little River, [they] had a company at Ramsour's Mill.  Lincolnton still owes you new shoes. 
The Battle of Cowpens was in mid-Jan 1781, East of Chesnee, S.C.  The Patriot movie captures the drama, albeit Mel Gibson kills British LTC Tarleton. The Patriots formed three lines: backcountry riflemen, the militia line, then Gen. Morgan's Regulars.  The militia was to fire some shots, then high-tail it. 
Aristotle said "Those whom the Gods will destroy; they first make proud."  The Gods chose Tarleton.  He took the bait and charged the Patriots, but Morgan's cavalry sprung the trap and engulfed them against the Third Line.  The egotistical Tarleton escaped with 200 Dragoons.  The loss was catastrophic: 110 British soldiers dead, 200 wounded, and 500 captured.  There is a famous picture at the third line:  a militia-clad "black soldier" rides up and shoots the British officer slashing a Patriot Colonel; I wish I could claim this veteran was from Lincoln County.  First Lieutenant Andrew Miller of the Little River Regiment was killed. You guys didn't want to go home.  Concurrently, the Lincoln Regiment was in the second row. Courage, then duty.  Only one Regiment company was listed, but time pressed record's accuracy; intelligence revealed Gen Cornwallis left Charlotte for Lincoln County.  The Regiment raced home.
History ignored Cornwallis's March of an Army of 2,500 soldiers through Lincoln County in 1781.  Devastated by the Cowpens' disaster, Cornwallis aimed East of the Catawba River. His army feinted towards Kings Mountain, marched by Tryon Courthouse, Crouse, past Love Memorial School/Johnny Colvard Gym, and onto... Ramsour's Mill. 
Cornwallis encamped for three days at the Mill to assemble his forces.  Tarleton rendezvoused there and Col. O'Hara arrived as the third wing. Think; at our LHS Von Ray Harris Field, Jeb Seagle Road, Paul Lawning Road, Clarke's Creek bottomlands, and Frank Rudisill's old house, Cornwallis assembled his final Field Army in America; no more strategic reliance on Loyalists nor subordinate-led campaigns.  As Commander, he'd maneuver to destroy the American Army under Nathaniel Greene then Washington.  Thus began his peripatetic maneuvers ending in surrender at Yorktown nine months later; that's a huge deal for Lincoln County History.  Cornwallis stripped his army of items that might slow it down, burning baggage- trains, tents and luxury items in a giant bonfire. Desperation steered that first Pep Rally.
His Army marched in three echelons, down East Main Street, thru Boger City to Hwy. 150, to South of Denver and towards Beattie's Ford. Scouts reported that rains made Beattie's impassable.  So, his Army continued down Hwy. 16 past East Lincoln High School, then veered East to Cowan's Ford.
Cowan's Ford (Lake Norman Dam and bridge) Lincoln County's Thermopylae. The British march shoved our soldiers back like sweeping water from a floor, but once halted, water recoils.  It's 1 February 1781.  Winter.
Aristotle said, "You are what you repeatedly do; excellence therefore, is not an accident but a habit."
Across the Catawba River, Major Wilson led six Lincoln Regiment companies.  B.G. Davidson from Mocksville assumed overall command. The Lincoln Regiment was now a veteran force, experienced with three victories in seven months. Between Battles of Ramsour's Mill and Cowpens, the Lincoln Regiment lost 11 members at Kings Mountain, but that's another story.
The British ford Cowan's; a LTC is shot out of his saddle; the icy water makes going tough, so British officers make soldiers link arms so they won't drown, like some with heavy waterlogged coats.  The absurd commands went: "All right Lads, keep moving; ignore those bullets splashing around your heads".  Eventually, the Brits crossed the Catawba and formed battle lines, but they lost a platoon of men dead and wounded.  Long-term doom loomed.  Our six companies retreated under fire and reemerged at the Battle of Guilford Courthouse, six weeks later; Courage, then fight.
What universal thoughts could our vets have had at the Cowan fight?
I do things that haunt me, so you can Rest in Peace
I do these things, as I've Sworn an Oath
I'm away from my family, so that yours can Be Safe
I sacrifice, so that you may Live Free
I might not live to be old, but you Brits are where we want you, you're trapped and you'll pay:
We'll bloody you and repeat until the end.  In the tongue and spirit of Leonidas, Molon Labe; "Come & get some."
You're always a veteran. You belong on the football team of a never-ending game.  You serve as an Ambassador of the Armed Forces and the Country.  People have expectations of you.  Be concerned that out of a group of recruits only 23% are fit to serve.  Be concerned that some veterans discourage their family from joining up.  That's disastrous.  A youth might need your guidance; a friend might need your visit and ear, a Project/Cause might need you to take charge; you might … give a Veterans' speech, surviving spouses must know they're still valuable, a buddy's gravestone might need cleaning, there might be a great High School athlete male or female who wants to go to the Military Academy.  If it's in football, I need to know it.  Your hundreds of contributions matter, producing a herculean difference in the Carolinas.
Thank you for your courage, then thank you for your service.
The Lincoln Herald covers the news of Lincolnton, Denver, Cherryville, Maiden, Alexis, Stanley, High Shoals--all of Lincoln County and neighboring Gaston, Catawba and Cleveland counties. We provide news, sports, obituaries, community events and much, much more! The Lincoln Herald also publishes birthday, anniversary, wedding and engagement announcements and some classified ads for individuals absolutely free...and reading the Herald is also FREE!  E-mail us at [email protected] to submit your Story Ideas, Events or FREE Classifieds! Also contact us about our great advertising packages!
---
---
Today's Events
EVENT
dec 2, 2023 @ 7:00am