November 11, 2023 at 8:30 a.m.
---
World War I – known at the time as "The Great War" – officially ended when the Treaty of Versailles was signed on June 28, 1919, in the Palace of Versailles outside the town of Versailles, France. However, fighting ceased seven months earlier when an armistice, or temporary cessation of hostilities, between the Allied nations and Germany went into effect on the eleventh hour of the eleventh day of the eleventh month. For that reason, November 11, 1918, is generally regarded as the end of "the war to end all wars."
Veterans Day continues to be observed on November 11th, regardless of what day of the week on which it falls. 
The day was originally known as Armistice Day.  In November 1919, President Wilson proclaimed November 11th as the first commemoration of Armistice Day with the following words: "To us in America, the reflections of Armistice Day will be filled with solemn pride in the heroism of those who died in the country's service and with gratitude for the victory, both because of the thing from which it has freed us and because of the opportunity it has given America to show her sympathy with peace and justice in the councils of the nations…"
The name change to Veterans Day came about in 1954 at the urging of the Veterans service organizations.
The Uniform Holiday Law of 1968, intended to ensure three-day weekends for Federal employees by celebrating four national holidays on Mondays: Washington's Birthday, Memorial Day, Veterans Day, and Columbus Day, moved the observance, and Veterans Day was celebrated under the new law on October 25, 1971. 
It was quite apparent that the commemoration of this day was a matter of historic and patriotic significance to a great number of citizens, so on September 20th, 1975, President Gerald R. Ford signed a new law returning the annual observance of Veterans Day to its original date of November 11th, beginning in 1978.
Locally, the American Legion organizes the celebration.  An 11 AM parade from Flint Street to the Courtsquare is followed by a brief program.   [See more photos of the parade in our photo gallery.]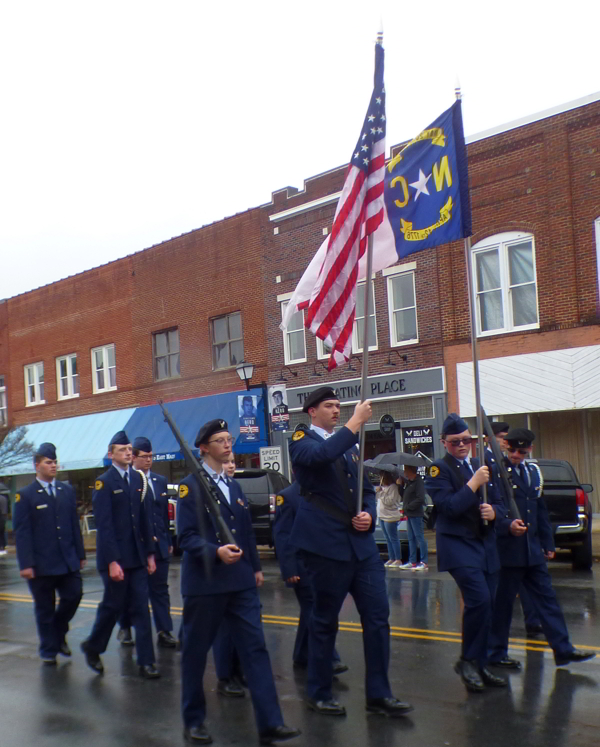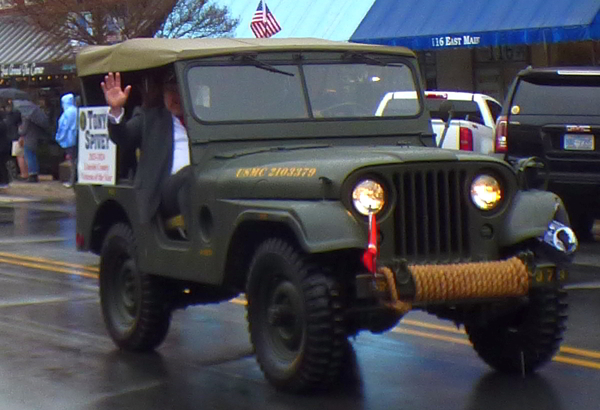 Tony Spivey, who served with the National Guard from 1991-2011 and did two tours of duty in Iraq, was honored as the Veteran of the Year. Spivey serves as the current commander of American Legion Post 30 and the local chapter of the DAV and is a member of the Legion & DAV color guard.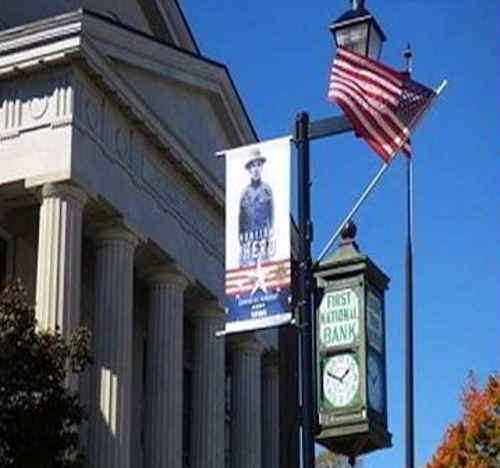 Lincolnton's Hometown Heroes banners, honoring those who served or are still serving, were put in place after the Apple Festival.  They will remain up until next week and will be replaced by Christmas banners for the holiday season.  
---
---