November 14, 2023 at 9:08 a.m.
Classified
"Lighting The Tree" Remembrances Project
Each light on the tree signifies a loved one to be honored or remembered.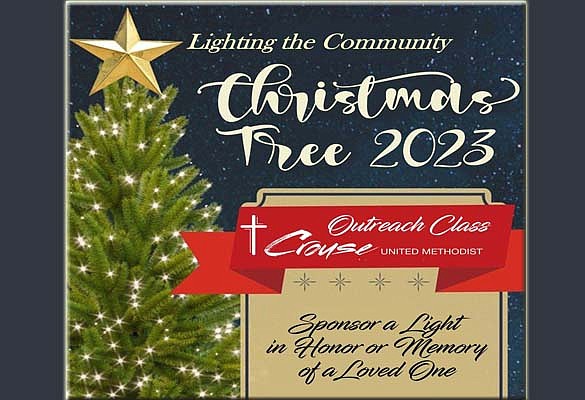 ---
CROUSE––"It's the most wonderful time of the year!"
That's what the late, great crooner, Andy Williams, sang 60 years ago. And that magical time of Christmas isn't far off, according to noted local historian Mona Ramsey of Crouse. Well known for her work with the Crouse Community History and Photographic Project, Ramsey told The Herald this week that the charming town of Crouse and Crouse United Methodist Church are gearing up now for that holiest of tides.
For long years, as she informed, the church's Outreach Sunday School class has sponsored an annual Christmas tree-lighting ceremony. Class member Pat Heafner says this tradition will be continued this year. Last year, 100 percent of the donations collected through this Outreach class project went to Christian Ministries of Lincoln County. Ramsey added that the hope this year is to match or exceed last year's donations.
She continued that the tree would be up the week following Thanksgiving. It may be seen in the gazebo of Crouse UMC. The lights will be turned on for the members of the Crouse community to enjoy. Each light on the tree signifies a loved one to be honored or remembered.
Interested in sponsoring a light? Contact Heafner at the address below to receive a form you may use when you donate, as Ramsey pointed out.
"Remember," she emphasized, "100 percent of the proceeds will be donated to Christian Ministries of Lincoln County. Please think about a donation, ensuring that this year's project is a success. Your donation will help those who are less fortunate."
Crouse Methodist Church is located at 3311 Crouse School Road in Crouse, just outside of Lincolnton.
Send your donations to:
The Outreach Class, c/o Crouse UMC, P.O. Box 43, Crouse, N.C. 28033
 CLICK HERE TO DOWNLOAD A FORM
https://lhmerchant.com/ads/CrouseUnitedMethodistChurch/Form2023.png 
The Lincoln Herald covers the news of Lincolnton, Denver, Cherryville, Maiden, Alexis, Stanley, High Shoals--all of Lincoln County and neighboring Gaston, Catawba and Cleveland counties. We provide news, sports, obituaries, community events and much, much more! The Lincoln Herald also publishes birthday, anniversary, wedding and engagement announcements and some classified ads for individuals absolutely free...and reading the Herald is also FREE!  E-mail us at [email protected] to submit your Story Ideas, Events or FREE Classifieds! Also contact us about our great advertising packages!
---
---