November 16, 2023 at 10:34 a.m.
Free Vaccine & Microchip Clinic For Your Family Pets
December 2 from 9 a.m. until 2 p.m. at Temple Baptist Church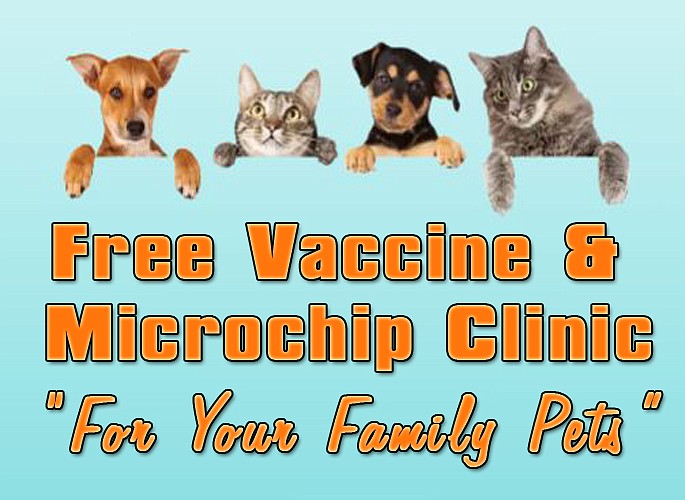 ---
LINCOLNTON, N.C. - Helping Animals to Survive (HATS) will have a FREE Rabies Vaccination and Microchip Clinic on Saturday, December 2 from 9 a.m. until 2 p.m. at Temple Baptist Church, 3115 NC Hwy 27, Lincolnton, NC 28092. This will be their last clinic for 2023.  Please do not arrive before 8 a.m.
Offering:
Rabies 1 and 3 year old shots (bring paperwork to get 3 year shot).
Combo distemper vaccines for dogs and cats
Pet owners must be residents of Lincoln County. First come, first served. Dogs must be on leashes and cats must be in carriers. No feral cats. No breeder animals. No rescue group animals. This is for family pets only!
Limit four (4) pets per car.
This event is being facilitated by HATS (Helping Animals To Survive). The distemper vaccines are courtesy of Petco LOVE. Partial funding is provided through a grant from Lincoln County Community Foundation, an Affiliate of Foundation for the Carolinas. Vaccines administered by DocTerra Mobile Veterinarian.
See our Facebook page Helping Animals To Survive - HATS https://www.facebook.com/MakeLincolnCountyNoKill  and website https://www.hatsalive.org/

The Lincoln Herald covers the news of Lincolnton, Denver, Cherryville, Maiden, Alexis, Stanley, High Shoals--all of Lincoln County and neighboring Gaston, Catawba and Cleveland counties. We provide news, sports, obituaries, community events and much, much more! The Lincoln Herald also publishes birthday, anniversary, wedding and engagement announcements and some classified ads for individuals absolutely free...and reading the Herald is also FREE!  E-mail us at [email protected] to submit your Story Ideas, Events or FREE Classifieds! Also contact us about our great advertising packages!
---
---