November 19, 2023 at 12:05 a.m.
Holiday Shopping Safety Tips
Sheriff Beam offers some helpful tips to keep you safe while you hit the shops this year!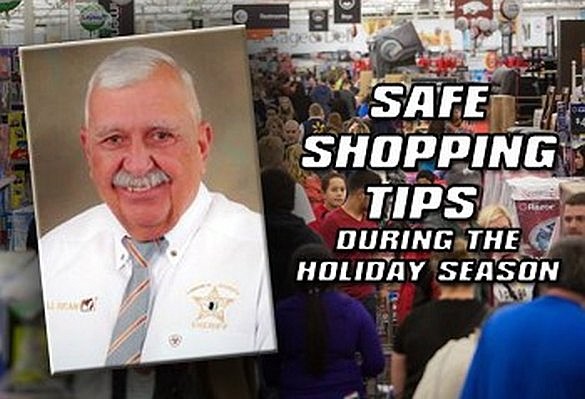 ---
Gift-giving season is quickly approaching, which means malls and department stores will be filled with large crowds and eager shoppers looking for that perfect gift for their family and friends. To help you prepare for the shopping rush, Sheriff Beam offers some helpful tips to keep you safe while you hit the shops this year!
Before you head to your favorite shopping center, remember these tips to make your experience as safe and smooth as possible:
Keep your purse or wallet close to or in front of your body and avoid placing valuable items such as your cell phone in your back pocket where it would be easy to take.
Do not fight or argue over an item.
Wait until you are asked by the cashier to take out your credit or debit card or identification. Someone waiting behind you could look over your shoulder to get your account information.
Before you head to the store, let someone know where you are going and when you plan to return.
Do not leave bags and packages visible through your car windows. Conceal them in the trunk or take them directly home.
If you plan to forgo the busy stores and do your holiday shopping online, here are some helpful ways to help you avoid becoming a victim of cyber-crime:
Shop only on secure websites. Look for the "HTTPS" or a lock symbol at the beginning of the URL on the website you are visiting. The "S" stands for "secure" which means it is safe to enter your information.
Keep a record of all of your online purchases including your order number and a product description. Monitor your bank and credit card accounts for any transactions that do not match your receipts.
Use a secured internet connection such as your home Wi-Fi. Public networks may leave your information vulnerable.
Do your research on the online retailer you are thinking about purchasing from. Take time to read reviews to ensure the website is legitimate.
"Shopping for the busy holiday season can be exciting, but also dangerous," said Sheriff Beam. "Add these tips to your holiday list and don't forget to check it twice before you shop! Protect yourself and your information to make sure your holiday season goes smoothly, and everyone gets the perfect gift this year."
For Additional Information Contact: Lincoln County Sheriff Bill Beam, 704-732-9050

---
---