October 3, 2023 at 7:47 a.m.
---
It was S-R-O (standing room only) as Lincoln County Commissioners and the County Planning Board began their Monday night (Oct. 2nd) meeting.  It all started at 6:30 and shortly thereafter a proposed county ordinance involving short term rentals became the first of multiple public hearings.  The last of the zoning and related requests didn't get heard until after 9 o'clock, so the Commissioners meeting spent a total of three hours on zoning and special use permit requests, proposed changes in county ordinances, etc.
 Most of the crowd attended to talk about short term rentals.  Some residents of the Lake Norman area spoke vehemently against short term rentals, expressing concern over that use of properties in their neighborhoods; but there were also some who objected to proposed restrictions on short term rentals including statements by owners of STR's, a realtor, and the chief operating officer of a company that specializes in short term rentals of  Lake Norman properties.  After two hours of comments during the public hearing, Commissioner Cathy Davis made a motion that the Commissioners establish a committee including two commissioners, two members of the Planning Board, and property owners who oppose the STR's and those who favor them.  That motion was unanimously passed.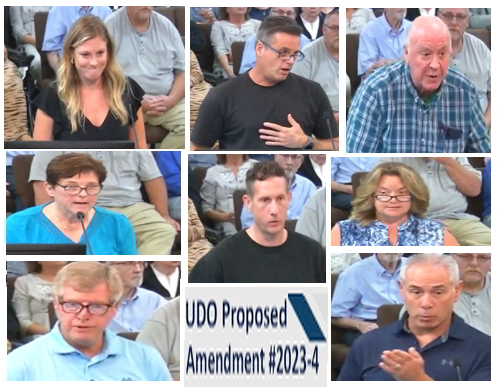 Before the hearing on the STR proposal, John Dancoff of LEDA (Lincoln Economic Development Association) presented two requests for Industrial Incentive Grants for two local industries.  
 The first of those was for Sennebogen, a manufacturer and support service center for purpose-built material haulers.  Sennebogen, located just off Old Plank Road near Lowesville, will invest $11.8 million for a 55,000 sq. ft. building.  The project will create 40 new jobs paying an average of $1400 weekly.  When it's completed, the County will provide just over $48,000 per year in tax incentive grants for seven years. 
The second request was for Cataler North America, located north of Lincolnton in the Lincoln County Industrial Park.  Cataler plans an expansion that will cost over $18.1 million.  The manufacturer of automotive catalysts used in exhaust systems will qualify for just over $57,348 per year in tax incentive grants for seven years.  
Both the requests received unanimous approval.  It's important to note that the incentive grants will only be paid after the industries have paid their County taxes, including any additional taxes resulting from the expansions.
When Commissioners concluded the lengthy public hearings and the public comments portion of their meeting, in other business, Commissioners approved upgrading the disinfection process of the County water system.  The $357,000 project is expected to be completed next year and is expected to serve the County's need for disinfection of its system for more than 30 years.
---
---