October 20, 2023 at 4:28 p.m.
---
It hasn't been finalized yet, but it's essentially a 'done deal.'  The Republican-controlled North Carolina General Assembly has created two new proposed maps of the state's Congressional districts that when either is adopted will make North Carolina the most gerrymandered state in the nation.  Unveiled on Wednesday (Oct. 18th), the new maps will almost certainly get rid of three current Democratic US House members and change the state's representation from a 7-7 split to 11 Repblicans and three Democrats.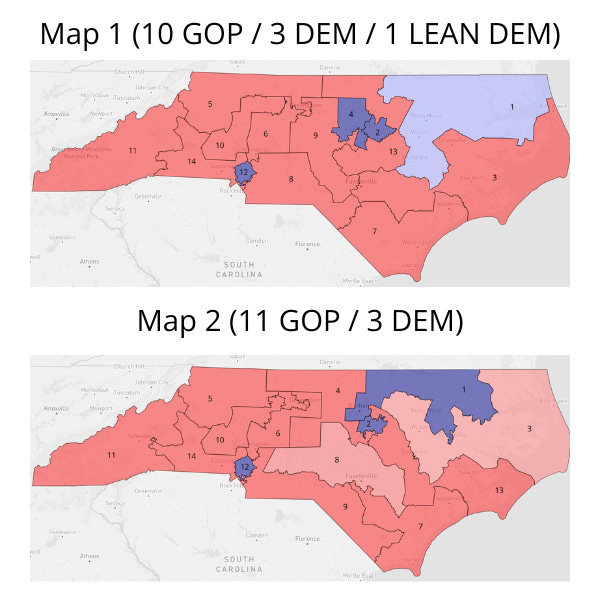 Results from previous elections indicate that one of the proposals would create 10 districts that overwhelmingly favor a Republican candidate, three that favor a Democrat and one that could be considered competitive. In the other proposal, Republicans would likely win 11 of the 14 seats.
The three Democrats who will be ousted by the new districts proposals are first-term representatives Jeff Jackson of Charlotte and Wiley Nickel of Cary, and second-term Rep. Kathy Manning of Greensboro.
Depending on which plan is chosen, the change could also knock off a fourth Democrat because it would draw two of the state's three black representatives – Don Davis of Greene County and Valerie Foushee of Chapel Hill – into the same district. Under the other proposal, Davis would not face off against Foushee, but his seat would become more friendly toward Republicans.
The current districts were the result of trial judges who declared that lawmakers had failed to comply fully with a February 2022 ruling by the then -Democratic majority State Supreme Court that the state constitution outlawed extensive partisan gerrymandering. That redrawn map was considered an interim, and state law says an interim map can only be used for one election cycle, giving the legislature another chance to draw boundaries.
Last spring, the state Supreme Court — which following the 2022 election changed from a Democratic majority to Republican — ruled that the state constitution doesn't limit partisan gerrymandering. 
Wednesday's district proposals would split each of the state's largest counties — surrounding heavily Democratic Charlotte, Raleigh and Greensboro — into as many as three districts, some of which pull in more Republican voters.
In a release, Governor Roy Cooper blasted Wednesday's maps as "gerrymandering on steroids" by Republicans who "have used race and political party to create districts that are historically discriminatory and unfair."  Cooper does not have veto power over redistricting legislation, but that wouldn't matter: the GOP has a veto-proof super-majority.
House and Senate redistricting committees also filed separate legislation Wednesday that would rework their own districts — the House for its 120 seats and the Senate for its 50 seats.
One interesting feature of both new proposals is that the 14th district, which currently includes much of Charlotte and most of Gaston County, would be scrapped.  The new 14th, which will include Gaston, Cleveland, Rutherford and Burke and a small portion of northern and western Mecklenburg and the extreme eastern portion of Buncombe County appears tailor-made for a possible Congressional run by Cleveland County's Tim Moore, currently Speaker of the NC House.  Patrick McHenry's redrawn 10th district will include Lincoln, Catawba, Iredell & Davie counties and a portion of Forsyth.
Playing politics with election maps is nothing new.  The Democrats did it years ago when they controlled the General Assembly--but this is the most politicaly gerrymandered proposal in NC history.  
Local Republican party organizations have been very much involved in the same tactic.  In both Lincoln and Catawba counties, school board races that were previously non-partisan were changed at the insistence of GOP leaders, intent on making sure no Democrat could be elected.  The former chairman of the Lincoln County GOP pushed partisan elections and succeeded in getting rid of former board member Joan Avery by redrawing the districts.  Now, Myra Heavner is the only remaining Democrat on the board, and she's up for election (if she decides to run) in 2024. 
Candidate filing for the 2024 election is set to begin in early December.
---
---
Today's Events
EVENT
dec 2, 2023 @ 7:00am