October 28, 2023 at 7:15 a.m.
---
Jennifer Baker, DAR Vesuvius Furnace Chapter
| Comments:
0
|
Leave a comment
---
Major William Chronicle
Compiled by Jennifer Baker, DAR Vesuvius Furnace Chapter
In the early afternoon of October 7, 1780, the Overmountain men crept toward British Major Patrick Ferguson and his troop's position on a rocky hilltop in northwestern South Carolina called Kings Mountain. One of those men was Major William Chronicle, a Lincoln County citizen-soldier of the Revolution, one of the heroes slain in the Battle of Kings Mountain.
Chronicle's mother, whose maiden name has not been found, had been first married in Pennsylvania to a McKee who died in about 1753, during or soon after migration with his family to North Carolina. He left his widow with an infant son, James. The widow married William Chronicle, Sr., in 1754. Born near present-day Belmont, North Carolina, Chronicle was the only son of William and Dinah McKee Chronicle.
From 1768 to 1779 the Chronicle family resided in Tryon County, created in 1768 from Mecklenburg County in honor of royal Governor William Tryon. Many leading people of the county, including the elder William Chronicle, did not like Tryon and favored the Regulator rebellion, which was crushed at the Battle of Alamance in 1771. After the Thirteen Colonies declared war against Great Britain, Chronicle organized the Tyron County Militia (later called Lincoln County) and served in the Snow Campaign from November to December 1775. This campaign attacked Loyalist recruiting centers in South Carolina to disrupt and discourage Loyalist recruits. He fought in Georgia, South Carolina, and North Carolina for the next several years with his militia. Tryon County was abolished at the request of its own people, in order to curry support from its ex-Regulators at a crucial phase of the Revolution.
Lincoln, one of two new counties formed in 1779 when Tryon was abolished, was named for a Continental Army officer from Massachusetts, General Benjamin Lincoln. When the Lincoln County militia regiment was organized in 1780, with William Graham as colonel and Fredrick Hambright as lieutenant colonel, William Chronicle the younger was elected major. On June 20, 1780, he fought in the Battle of Ramsour's Mill.
After the British victory at the Battle of Camden in August 1780, British General Charles Cornwallis dispatched Major Patrick Ferguson to North Carolina. Ferguson's job was to recruit members to fight for the Loyalist militia and protect Cornwallis's left flank as he attempted to move through the Carolinas. However, Ferguson's rough tactics garnered him the ire of the Overmountain men, residents of the Carolina Backcountry and the Appalachian Mountain range, and from places that would later become the states of Tennessee and Kentucky.
Graham did not accompany the regiment to Kings Mountain because of illness in his family, and Chronicle led the charge of his regiment up the mountain slope. Several local patriot militias of the region led by William Campbell, John Sevier, Joseph McDowell, William Hill, Edward Lacy, Benjamin Cleveland, Joseph Winston, William Chronicle, and Isaac Shelby decided to take on Ferguson and his men. On October 7th, the Patriot forces attacked "en masse" from all sides. Chronicle, leading his men forward, yelled "Face to the Hill!" before he was struck in the chest and mortally wounded. Ferguson was also killed during the confrontation. After this defeat and several others, the British abandoned their plan and their goal to secure Loyalist support in the South failed.
Chronicle was buried on the battlefield with Captain John Mattocks, William Rabb, and John Boyd, who also died during the battle, and a stone marker marks their grave in the Kings Mountain National Military State Park.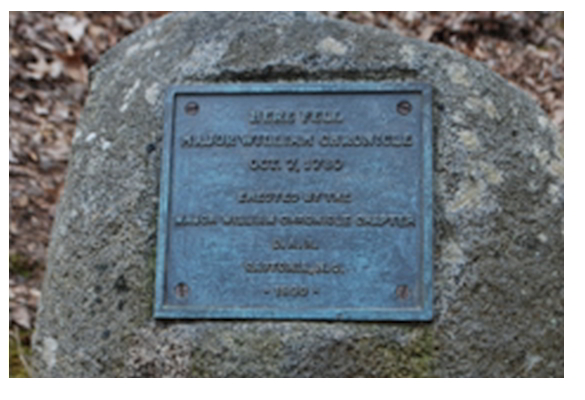 As he was killed in action; his sword and spurs were brought home by his comrades and were given by his father to Chronicle's half-brother, James McKee. Chronicle was never married. He had a sister, Sarah (ca. 1757–86), who married Abraham Scott and by 1785 had daughters (unnamed in the records) and sons named William and John.
James McKee, in December 1801, while a resident of Lincoln County, petitioned the General Assembly to be allowed to inherit military lands and other benefits accruing to the estate of his deceased half-brother, "who was killed at the Battle of King's Mountain and died intestate leaving behind him no legal heirs." Petitioner McKee stated that "if the law of descent had been the same as it is at the time of this petition, then petitioner would be entitled to inherit this officer's estate." The General Assembly passed a special act in his favor. The statement that Chronicle left behind him no legal heirs at the time of his death was quite contrary to fact, however, inasmuch as his father, mother, sister, nieces, and nephews were still alive five years after the Battle of Kings Mountain, when Chronicle's father wrote his will. The will was duly probated and executed in Lincoln County in 1786. It is possible that all these legal heirs had died without descendants by 1801, but the failure to account for them is itself remarkable. McKee attained prominence in Lincoln County. Among his descendants was a grandson, William Henry, M.D. (7 Sept. 1814–Apr. 1875), of Raleigh, who was the father of James, M.D. (5 Jan. 1844–5 Jan. 1912), also of Raleigh.
One of the DAR Chapters in Gaston County is named for Major William Chronicle.
---
---
Today's Events
EVENT
dec 2, 2023 @ 7:00am