September 19, 2023 at 9:16 a.m.
ESL Center Is A Unique Resource For Our Non-English Speaking Families
Open and available throughout the school year and in the summer.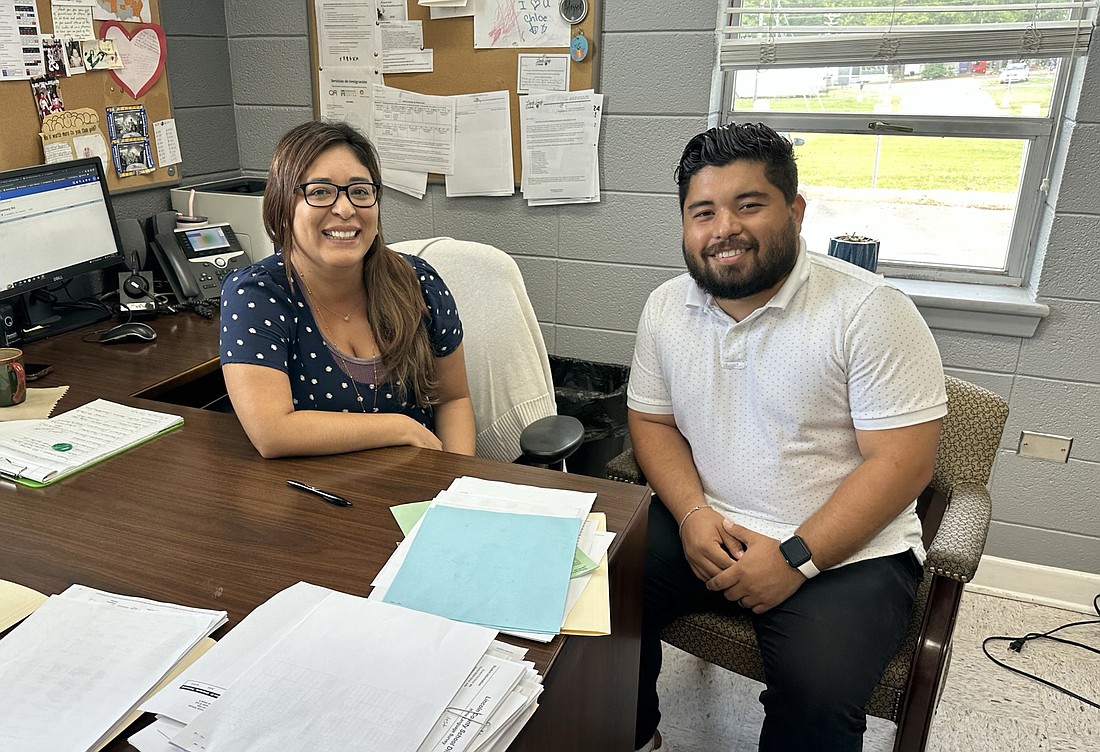 ---
LINCOLNTON, N.C. - Lincoln County Schools has a unique resource available to our non-English speaking families that have children enrolled in the school system.
The ESL Center is located on 2660 Maiden Highway, Lincolnton near the transportation and maintenance department facilities.
Sindy Carias-Campos and Alejandro Cerdas provide a wide variety of assistance to families such as enrollment support for non-English speaking families and homeless families. 
The ESL Center is open and available to our families throughout the school year as well as in the summer.  Teachers, principals, social workers, and nurses all benefit from the services they provide.  In addition to enrolling students, Sindy and Alejandro also help families connect to doctors and medical providers.  The ESL Center assists with screenings, and helps families fill out forms, set up and accompany families on school tours, and provide any outreach that is needed. 
Interpreting is provided at IEP meetings, parent-teacher conferences, and with school personnel.  If families need assistance with completing the FAFSA, school lunch applications, transcript analysis, the ESL Center can help.
One of the main goals Sindy and Alejandro want to accomplish is to improve their outreach in the community.  Last year, they assisted Lincolnton High School with its Adaptive Prom.  They work closely with the district's ESL teachers to help provide resources when needed.  One of the resources teachers use is Imagine Learning, a program to help students learn the English language.
If you or someone you know needs assistance with any of the above-mentioned services, feel free to contact Sindy at [email protected] or Alejandro at [email protected] or call the ESL Center at 704-736-1693.  You can also learn more about the ESL Center and resources on our website at https://www.lcsnc.org/domain/54.
+++++++++++++++++++++++++++++++++++++
Las Escuelas del Condado de Lincoln tienen un recurso único disponible para nuestras familias que no hablan inglés y que tienen niños matriculados en el sistema escolar. 
El Centro de ESL está ubicado en 2660 Maiden Highway, Lincolnton, cerca de las instalaciones del departamento de transporte y mantenimiento.
Sindy Carias-Campos y Alejandro Cerdas brindan una amplia variedad de asistencia a las familias, como apoyo de inscripción para familias que no hablan inglés y familias sin hogar.
El Centro de ESL está abierto y disponible para nuestras familias durante todo el año escolar y durante el verano. Los maestros, directores, trabajadoras sociales y enfermeras se benefician de los servicios que brindan. Además de inscribir estudiantes, Sindy y Alejandro también ayudan a las familias a conectarse con proveedores médicos. El Centro de ESL ayuda con las evaluaciones y ayuda a las familias a completar formularios, organizar y acompañar a las familias en recorridos escolares y brindar cualquier extensión que sea necesaria.
Se proporciona interpretación en reuniones del IEP, conferencias de padres y maestros y con el personal de la escuela. Si las familias necesitan ayuda para completar el FAFSA, las solicitudes de almuerzo escolar y el análisis del expediente académico, el Centro ESL puede ayudar.
Uno de los principales objetivos que Sindy y Alejandro quieren lograr es mejorar su alcance en la comunidad. El año pasado, ayudaron a Lincolnton High School con su baile adaptativo. Trabajan en estrecha colaboración con los maestros de ESL del distrito para ayudar a proporcionar recursos cuando sea necesario. Uno de los recursos que utilizan los profesores es Imagine Learning, un programa para ayudar a los estudiantes a aprender el idioma inglés.
Si usted o alguien que conoce necesita ayuda con cualquiera de los servicios mencionados anteriormente, no dude en comunicarse con Sindy al [email protected] o Alejandro en [email protected] o llame al Centro de ESL al 704-736-1693. También puede obtener más información sobre el Centro de ESL y los recursos en nuestro sitio web en https://www.lcsnc.org/dominio/54.

The Lincoln Herald covers the news of Lincolnton, Denver, Cherryville, Maiden, Alexis, Stanley, High Shoals--all of Lincoln County and neighboring Gaston, Catawba and Cleveland counties. We provide news, sports, obituaries, community events and much, much more! The Lincoln Herald also publishes birthday, anniversary, wedding and engagement announcements and some classified ads for individuals absolutely free...and reading the Herald is also FREE!  E-mail us at [email protected] to submit your Story Ideas, Events or FREE Classifieds! Also contact us about our great advertising packages!
---
---