September 15, 2023 at 11:16 a.m.
---
LINCOLNTON, N.C. - The Lincoln County Sheriff's Office Citizen's Law Enforcement Academy participants learned about the use of force, as it relates to law enforcement duties, during their fourth week of this program.
The use of force, both lethal and less lethal, is a yearly training topic for law enforcement officers. This week, participants were able to learn about appropriate use of force and law enforcement considerations when force is needed to protect citizens, protect themselves, or even to effect an arrest. Scenarios were discussed with the participants, giving them the chance to decide what level of force would be reasonably necessary in each situation.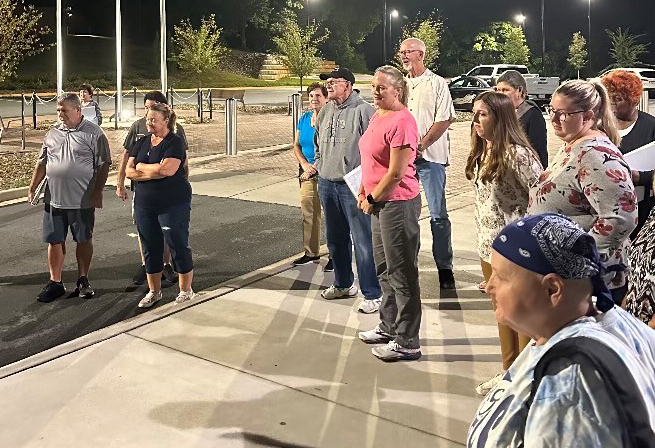 LCSO Detective Dylan Houser talked with participants about less lethal force options, such as OC spray (Oleoresin Capsicum Spray), which is also known as "Pepper Spray." Part of this presentation allowed participants to deploy inert spray, which is utilized by law enforcement for training purposes. The science behind OC spray was discussed, as well as possible side effects, deployment considerations, and proper decontamination techniques. Next week, use of force training will continue, including reality-based use of force decision scenarios.
Download the Lincoln County Sheriff's Office smart phone app for notifications about the Sheriff's Office, for inmate and arrest information, to apply for a concealed carry permit, and more. Anyone who has information on a crime is asked to call the Lincoln County Sheriff's Office (704-732-9050), Lincoln County Communications Center (704-735-8202), or Lincolnton/Lincoln County CrimeStoppers (704-736-8909). All tips are investigated.

The Lincoln Herald covers the news of Lincolnton, Denver, Cherryville, Maiden, Alexis, Stanley, High Shoals--all of Lincoln County and neighboring Gaston, Catawba and Cleveland counties. We provide news, sports, obituaries, community events and much, much more! The Lincoln Herald also publishes birthday, anniversary, wedding and engagement announcements and some classified ads for individuals absolutely free...and reading the Herald is also FREE!  E-mail us at [email protected] to submit your Story Ideas, Events or FREE Classifieds! Also contact us about our great advertising packages!
---
---