BUSINESS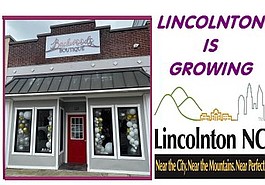 We're growing--and not just eastern Lincoln County. Lincoln is the 5th fastest growing county in the state (2021-2022); industries are expanding; and new businesses are opening.
---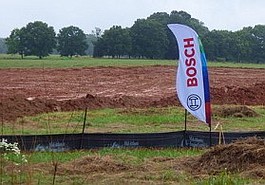 Robert Bosch Tool Corporation held a groundbreaking event Wednesday (June 20th) for the planned expansion of its operation on Indian Creek Road west of Lincolnton. The expansion will cost over $130 million and create over 400 new jobs.
---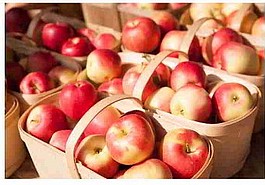 Apple growers will have a referendum on June 27th to decide on assessments for sales of apples.
---
You could say it remains among the most important threads in America's economic tapestry. It's the textile industry. And Belmont-based Beverly Knits, Gastonia-based Parkdale Mills and others are important to our local, regional and national economies.
---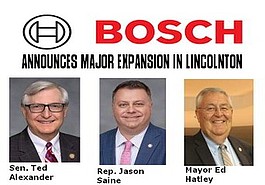 A long-time Lincolnton manufacturer announced plans Thursday (June 1st) to expand its operation in Lincolnton. Bosch will invest $130 million and create 400 new jobs at its Indian Creek Road location.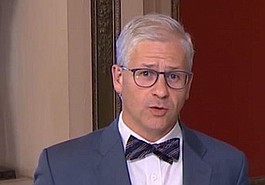 The US House of Representatives passed the debt ceiling deal H.R. 3746, the Fiscal Responsibility Act Wednesday evening. The bill then went to the Senate, where approval came Thursday by a 63-36 vote. When signed by President Biden, it will avoid a default by the US Government that could have produced an economic …
---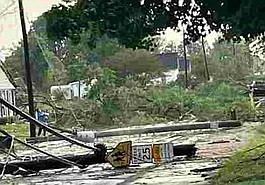 Bad as it was, it could have been worse. The good news is that apparently nobody died in the brutal storm that hit Cherryville Tuesday afternoon (May 16th).
---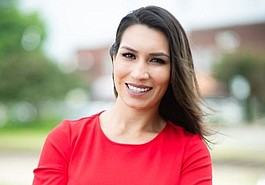 Former Spectrum News on-air reporter Vanessa León is Lincoln County's new public affairs officer.
---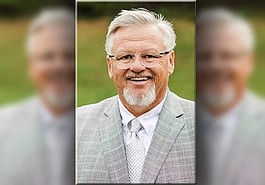 It's all about helping one's fellow human beings. It's Gateway Gaston. And according to program co-ordinator Dwayne Burks, it's making a big difference in the lives of countless local folks, getting them connected with the help they need.
---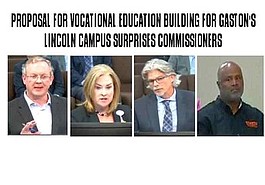 It had been talked about before--but a proposal put forth at Monday night's (April 17th) meeting of Lincoln County Commissioners still caught them by surprise. Cliff Brumfield of LEDA and others addressed Commissioners about bringing a vocational education building and more vo-ed programs to the Lincoln Campus of Gaston College.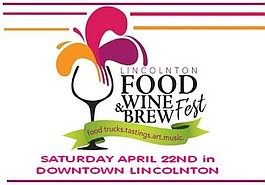 UPDATE: The Downtown Development Association's 2023 Food, Wine & Brew Fest in downtown Lincolnton has now been postponed until Sept. 23rd.
---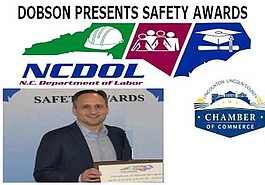 The North Carolina Department of Labor recognized Lincoln County employers and employees at the agency's annual safety awards banquet sponsored by the Lincolnton-Lincoln County Chamber of Commerce and held last Wednesday (April 12th).
---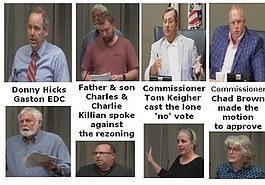 Gaston County Commissioners rejected the disapproval of the County Planning Board and residents of the area who spoke at two community meetings and a public hearing, and approved a rezoning request that will allow a major industrial and housing complex on the Lincoln-Gaston County line.
---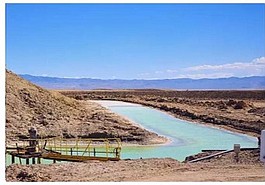 The Cherryville City Council postponed a public hearing related to a proposed lithium mine at their Monday night (April 10th) meeting.
---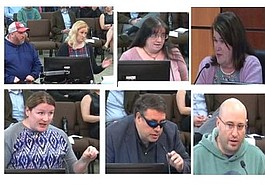 A decision on a rezoning request for property adjacent to the Villages of Denver that would allow creation of a new subdivision won't be finalized until the mid-monthly meeting of the Lincoln County Commissioners, but it took up most of Monday night's meeting for a public hearing on the request.