August 29, 2023 at 1:00 a.m.
Guest Columnist
Balls Creek A Living Slice Of Americana
Balls Creek is a national historic district with nearly 300 buildings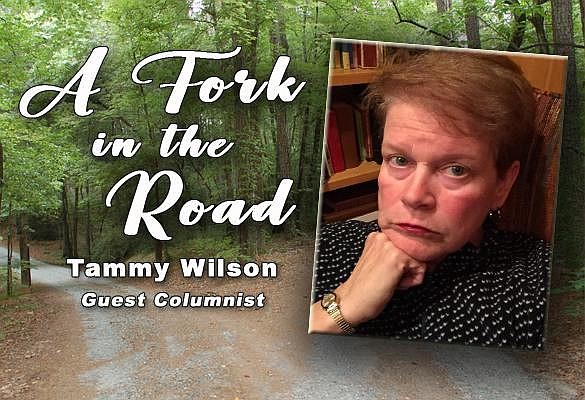 ---
Every August, some of Catawba County's oldest families gather at Balls Creek Campground for a respite from modern distractions. It's a religious retreat, but I'm willing to bet that most of the folks enjoy the old-time nostalgia as much as the churchy aspects.
What started as a Methodist gathering along near some natural springs along Buffalo Shoals Road has grown into a 170-year-old tradition. Balls Creek is a temporary village that comes to life every August, a brigadune that beckons families—and a few of us interlopers—to stroll amongst plank cabins they call "tents" and in doing so, they keep history alive.
I took my six-year-old granddaughter Violet to visit this year. We were part of the hymn sing in the arbor (the open-air auditorium) and visited a friend's rejuvenated "tent" that rose from the ashes after a fire in 2019.  It's truly a deluxe model with two stories, a full bath and air conditioning.
This wasn't my first visit, though. Moving here 44 years ago, I remember visiting this rustic place east of Newton. We were Hickory Methodists at the time, though few knew much if anything about Balls Creek. We ventured off Rt. 16 and drove a couple of miles to what looked like a collection of corn cribs built along dirt paths. 
People stayed in these huts? This was more rustic than any church camp we'd ever known. The plank cabins they called "tents" were where people sheltered for up to two weeks, some without indoor plumbing or air conditioning, some with sawdust floors. It was later we learned that the tents are prized by families, inherited from generation to generation and occasionally sold for tens of thousands of dollars.
These days many tenters drop in periodically—maybe for the Big Sing or youth rally or lunch on the grounds. They'll set up their kitchens, hang quilts as a backstop for the porch swing and greet neighbors—and us strangers—walking by.
Kids like to shop for paddle balls, stuffed animals, toy jewelry, water pistols and such at the little store next door to the ice cream booth. Violet enjoyed both of those places. If I'd planned ahead, we could have enjoyed a meal at the Shack—the restaurant on the premises.
Over the years, my husband and I have brought out-of-town guests to Balls Creek for a drive-by, and occasional visit with friends when camp meeting was in session. What says down-home more than a covered dish on the porch?
Balls Creek Campground began before the Civil War, in 1853, nine years after Catawba officially split from Lincoln County. At that point, it was decided that the northern half of old Lincoln County needed a nearby camp meeting, just like Lincoln's Rock Springs founded in 1830.
Today Balls Creek is a national historic district with nearly 300 buildings. It is considered to be the largest religious campground in the Southeast. This place plus nearby Mott's Grove, a traditionally Black camp meeting, offer a unique aspect to the area.
How have these institutions survived?  Enough folks have maintained tradition and value family and spiritual life. And the campgrounds are far enough away to not be swallowed up by towns or cities, yet close enough for an easy drive to attend events. At Balls Creek those events include more than a week of church services every August plus a trick-or-treat night in October and Christmas festivities in December.
Perhaps a handful of the tents still have sawdust floors as they did in the 1850s, when families stayed in one-story structures and brought their servants, supplies, poultry and produce to use as needed. Water was supplied by the common spring.
The place grew into a significant spot for politicking. Walk around the Balls Creek "avenue" during an election year and you'll see a lot of glad-handing by local politicians.
More importantly, the campground has been known as a social center, particularly in the old days where many a courtship began and still does, I presume.
Going out there isn't something I do every year, but this summer, I wanted to share a bit of it with my young granddaughter. In a way, I envy locals with family ties to Balls Creek—those who grew up spending part of their Augusts with extended family and friends in such a down-to-earth setting. They are a fortunate bunch to experience such a full slice of Americana. I want Violet to remember coming out to the campground, even for a brief moment.  
---Tammy Wilson lives near Newton. Contact her at [email protected]
---
---