September 14, 2023 at 2:50 p.m.
---
This is the weekend for the annual Cruisin' for a Cause in downtown Lincolnton.  It was over a decade ago that the event began, showcasing old-time vehicles and returning the legend of cruising to Main Street.
For anyone who didn't live in Lincoln County back then, in the 1950s & 1960s weekend nights were spent by many teens cruising Main Street and the Courtsquare.  The routine in its early days involved going from It's and Triple H Plaza on E. Main (Boger City) to the square, then down the Gastonia highway (S. Aspen St.) to Scronce's and then back. 
Cruising continued to be a regular thing until a downtown fire at a hardware store.  The fire department had difficulty getting to the location.  Police Chief Terry Burgin told City Council that drug sales and prostitution had also become a part of the cruising activity, so the Council banned it.  
Each year, Cruisin' for a Cause gives those who remember and others who are interested in old cars, music, etc. a chance to relive those days long ago.  The sponsors select local charities who receive funds from the money collected for cruising ($5) and cruising and parking ($15).  
Last year, Cruisin' for a Cause (a 501-c-3 non-profit) raised over $12,000.  This year, the funds raised will go to the Lincoln County Child Advocacy Center and Lincoln County Coalition Against Domestic Violence (Amy's House).
The big attraction is the old cars and trucks, but there'll also be music.  Beer will be sold at a beer tent and wine at Southern Charm Winery (you'll need a wrist band to purchase).  
There'll also be food available.
Main Street from Laurel to the square and the first block of side streets to that portion and the Courtsquare will be closed to traffic beginning at 3 PM.
If you pay $5, you can drive thru and look at the old vehicles, etc.  If you pay $15, you'll get a magnetic banner for your driver's side door that permits you to park and join in the festivities.  Those parking are asked to back into their spaces so they can rejoin the traffic flow without backing up.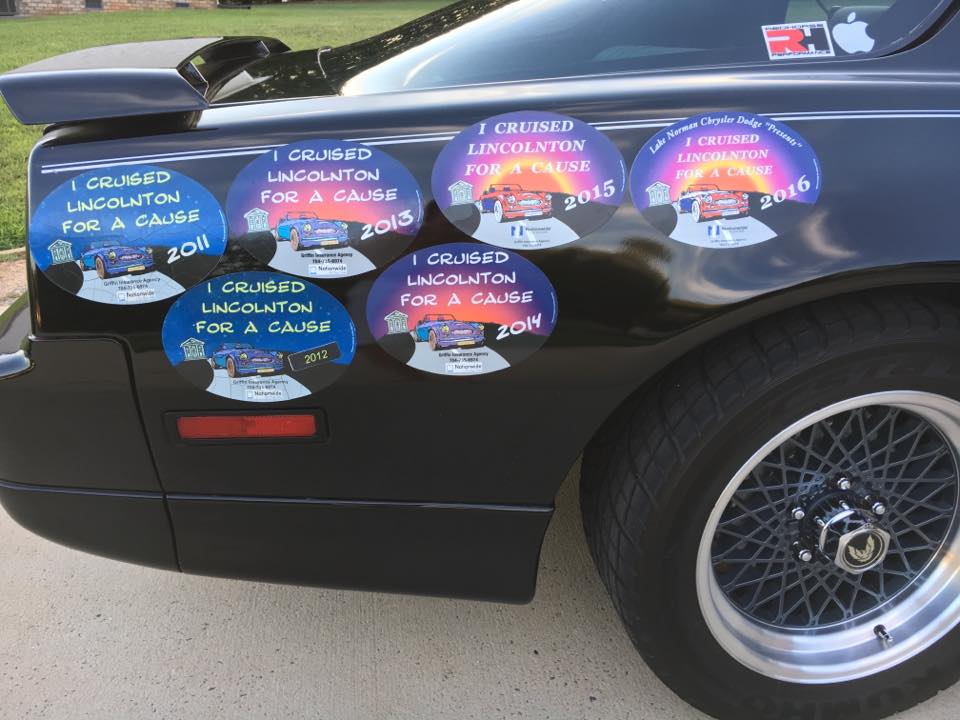 So bring your own classic vehicle or just enjoy looking at those belonging to others and come support two worthwhile charities while reliving a Lincolnton tradition from 4:30 - 10 PM downtown.
The downtown fun continues next Saturday (Sept. 23rd) with the rescheduled Lincolnton Food, Wine & Brew Fest.  Weather forced a postponement in the Spring and this year's event was rescheduled for Saturday September 23rd. We'll tell more details in another article next week.
Another Alive After Five also happens this month.  The performance of the Cat 5 Band was postponed from June because of weather, and they'll now perform Thursday Sept. 28th.  
It's all happening downtown!
---
---